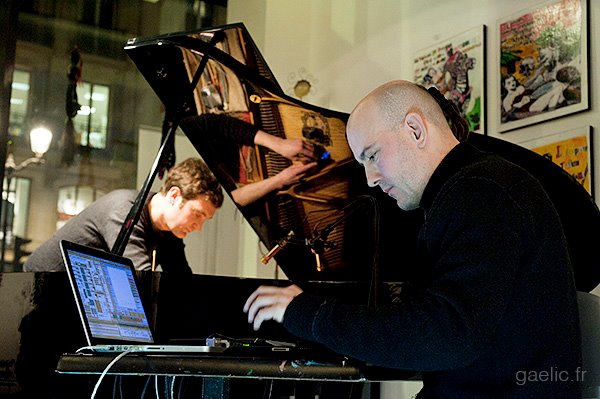 Diemo Schwarz (corpus-based concatenative musical sound synthesis), Frédéric Blondy (piano)

"le lieu d'un autre centre" audio sample

The pieces composed by Frédéric Blondy and Diemo Schwarz follow a trajectory, a predetermined evolution, within which musical expression thrives freely, based on listening to the sound world they create, and to its resonance with the performance space.
For each composition, the aim is to explore in depth a given material, a principle of play, a type of interaction, and to extract from it its essence, its expressive force.
The piano, driving force of the performance setup, is seen here in a very extended way, where the entire body of the instrument, as well as the materials it is made of, are engaged in sound production.
Be it by using preparations, playing inside of the instrument, or extended playing techniques, the acoustic material is extremely rich and diverse, and serves as source for the electro-acoustic setup.
The piano's acoustic body is electronically doubled with the help of corpus-based synthesis, producing at times a sonic shadow, at times a parallel space that crosses and interlaces with the sounds of the piano.
Corpus-based concatenative synthesis allows here to recontextualise the sounds captured and analysed in real-time, and to precisely navigate in the timbral space spanned up by the sounds of the piano, nourishing the corpus all along the performance.
Diemo Schwarz is a researcher and developer at Ircam, composer of electronic music, and musician on drums and laptop.
His compositions and live performances---with his solo project Mean Time Between Failure, in the duo theconcatenator with Etienne Brunet, or improvising with musicians such as George Lewis, Evan Parker, Frédéric Blondy, Victoria Johnson, Luka Juhart, Pierre Alexandre Tremblay---explore the
possibilities of corpus-based concatenative synthesis to re-contextualise any sound source by rearranging sound units into a new musical framework using interactive navigation through a sound space.

His research work includes improving interaction between musician and computer, and exploiting large masses of sound for interactive real-time sound synthesis, collaborating with composers such as Philippe Manoury, Dai Fujikura, Stefano Gervasoni, Pierre Jodlowski, Aaron Einbond, Sam Britton, Cécile Babiole. He holds a PhD in computer science applied to music, awarded in 2004 for the development of a new method of corpus-based concatenative musical sound synthesis by unit
selection from a large soundbase.