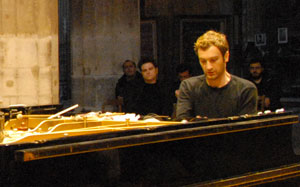 Born in Bordeaux in 1973.

On completing his studies in Mathematics and Physics at Bordeaux University, Frédéric Blondy dedicated himself full time to music, firstly as a jazz pianist and subsequently as a student at the Bordeaux National Conservatory where he studed piano, harmony, analysis and composition. Since moving to Paris he has worked with Marie-Christine Calvet at the "International Piano Center", refining a body-based approach to the instrument.

As musician, Frédéric Blondy has performed in many festivals and venues in Europe, North America, Middle East and Asia, working with, amongst others Paul Lovens, Rhodri Davies, Lê Quan Ninh, Michel Doneda, Joëlle Léandre, Urs Leimgruber, Thomas Lehn, Daunik Lazro, Radu Malfatti, John Tilbury, Otomo Yoshihide, Mats Gustafsson,.... and developed a thorough work with ensembles like Hubbub, Ethos.

As composer, he wrote music for films, videos, and danse and works with several ensembles.

In 2011 he created the Orchestre de Nouvelles Créations, Expérimentations et Improvisations Musicales (ONCEIM - ensemble of 30 musicians) to develop links between improvisers skills and written music. He is actually artistic director and composer for this ensemble.

He runs for several years a regular workshops on improvisation and contemporary sound practices, first at the Instants Chavirés then as part of the Rendez-Vous Contemporains of Saint Merry.
He is a regular speaker at the Cité de la Musique in Paris for workshops on contemporary sound practices and new creation tools.

More occasionally he is requested in many festivals in Europe, North America and Japan to lead courses and presenting lectures aboutimprovisation and contemporary sound practices.
He has made almost twenty recordings published on different European labels. He is a regular guest on national radio for concerts or to participate in broadcasts. His concerts are regularly recorded and broadcast by national radios : France Musique, SWR, BBC,...
He is also involved in the promotion of improvised and contemporary music as well as visual arts through Rendez-Vous Contemporains of Saint Merry and the festival Crak in Paris inviting international artists for concerts, performances, screenings, meetings...