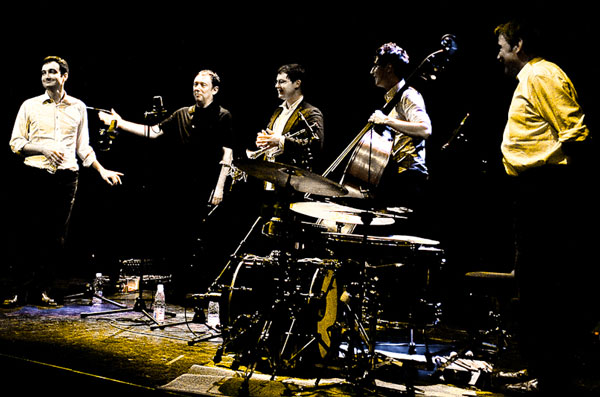 John Butcher (saxophones), Peter Evans (trumpet), Paul Lovens (drums), Clayton Thomas (double bass), Frédéric Blondy (piano)

Audio samples : recorded Live at Toulouse - Theatre du Pave on february, 27th 2010
and at Willisau Jazz Festival on august 2011

The Anemone quintet is the gathering of 5 cultures, 5 stories, 5 countries on 3 continents and 4 generations.
The multiplicity of routes, approaches and techniques is the source of an incredible wealth of colours, sounds and the frenzy of materials.
The quintet's music is primarily the result of a collective development where everyone's place, constantly changing, has moved away from power and hierarchies. The achievement of the individual soloist fades in the tangle of a collective's sounds.
A music intense, which originates in the material of the instruments through which pass all the listening and the understanding of the musicians.
JOHN BUTCHER


John Butcher's work ranges through improvisation, his own compositions, multitracked saxophone pieces and explorations with feedback and extreme acoustics. Originally a physicist, he left academia in 1982, and has since collaborated with hundreds of musicians principally involved with improvisation - including Derek Bailey, John Stevens, Gerry Hemingway, Polwechsel, Gino Robair, Rhodri Davies, John Edwards, Toshimaru Nakamura, Eddie Prevost, John Russell, Phil Minton and Steve Beresford. His compositions include pieces for Polwechsel, Elision, Rova Saxophone Quartet, and "somethingtobesaid" for the John Butcher Group.
Recent projects include "Thermal" with EX guitarist Andy Moor & Thomas Lehn and "The Contest of Pleasures" with Axel Dörner and Xavier Charles. He values playing in occasional encounters - ranging from large groups such as Butch Morris' London Skyscraper and the EX Orkestra, to duo concerts with Fred Frith and Akio Suzuki.

PETER EVANS


Peter Evans has been a member of the New York musical community since 2003, when he moved to the city after graduating Oberlin Conservatory with a degree in classical trumpet. Current bands include the Peter Evans Quartet, Moppa Elliott's terrorist bebop band Mostly Other People Do the Killing, the hyperactive improvisation duo Sparks (with Tom Blancarte), duo with trumpeter Nate Wooley, as well as a sustained interest in solo performance. Other collaborators include: Mary Halvorson, Steve Beresford, Okkyung Lee, Jim Black, Evan Parker, Carlos Homs, Peter Brotzmann, Clayton Thomas, Weasel Walter, Tobias Delius, Joel Ryan, and Luka Ivanovic. In New York, Peter also performs contemporary notated music and is a member of the International Contemporary Ensemble (ICE). Evans recently released a 2-disc set of solo trumpet music, "Nature/Culture", on psi and will be releasing a live CD of quartet music on Clean Feed in 2010.

PAUL LOVENS


German drummer Paul Lovens is a much-loved and highly respected presence on the European improvising scene, and since the mid-'90s. He has worked internationally with most of the leading musicians in free jazz and free improvisation as Cecil Taylor, Harri Sjöström, Günther Christmann, Eugene Chadbourne, Teppo Hauta-Aho, Mats Gustafsson, Thomas Lehn, Phil Wachsmann and Joëlle Léandre. He has undertaken concert tours in more than 40 countries, is a founder member of a musician's cooperative and has produced recordings for his own label, Po Torch Records since 1976.

CLAYTON THOMAS


Clayton Thomas is a double bassist and grass roots organiser working in the broad spectrum of improvised and experimental music. He is Australian, but lives in Berlin.

"I'm trying to work out a physical activity equally engaged in electronic and acoustic music aesthetics, while maintaining the kind of transitional and transformative energy of the music that changed my life. I draw inspiration from creative music of all eras, happily learning from and engaging with improvisers, sound artists, composers and thinkers alive and kicking in the 21st century.
I have been inspired and pushed by many great musicians, but would especially thank Jon Rose, Jim Denley, Andrew Meisel, Cooper-Moore, Tony Buck and Hollis Taylor for doing some real work on the topic."

FRÉDÉRIC BLONDY


On completing his studies in Mathematics and Physics at Bordeaux University, Frédéric Blondy dedicated himself full time to the piano, firstly as a jazz pianist and subsequently as a student at the Bordeaux National Conservatory. Since moving to Paris he has worked with Marie-Christine Calvet at the "International Piano Center", refining a body-based approach to the instrument.

As an improviser, Frédéric Blondy has performed in many festivals and venues in Europe, North America, Middle East and Asia, working with, amongst others Paul Lovens, Rhodri Davies, Lê Quan Ninh, Michel Doneda, Joëlle Léandre, Urs Leimgruber, Thomas Lehn, Daunik Lazro, Radu Malfatti, John Tilbury, Otomo Yoshihide, Mats Gustafsson,.... and developed a thorough work with ensembles like Hubbub, Ethos.